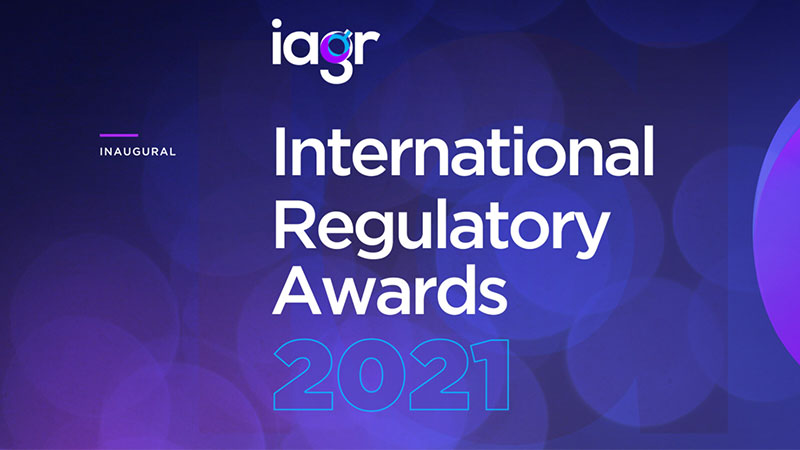 New awards recognise gaming regulators
IAGR has launched its new awards program, the International Regulatory Awards, and invites members to nominate their outstanding regulatory efforts.
To make a nomination, head to the awards page. Nominations are open from 15 June until 31 July 2021.
"There has never been a greater need for gaming regulators to be innovative in their regulatory practice," says Catherine Myers, IAGR Trustee and CEO of the Victorian Commission for Gambling and Liquor Regulation in Australia.
"The International Regulatory Awards offer a unique opportunity to acknowledge and recognise exceptional regulators who are helping to drive the industry forward. They provide a platform to promote success, share ideas, and inspire other gaming regulators across the globe."
Winners to be announced at IAGR2021
IAGR will announce the award winners at a gala dinner as part of the IAGR2021 conference in Boston in September.
The awards tie in closely with the theme of IAGR 2021: Disrupting the Regulator – Sparking innovation in regulatory practice.
Nominations welcome across five categories
The awards capture a breadth of positive initiatives in gaming regulation from across the world. Nominations are welcome from all fully accredited IAGR members.
An international judging panel will be assembled over the coming weeks, tasked with selecting winners from the following five categories:
International regulator of the year – recognising exemplary leadership and accomplishment in regulatory policy and practice
Regulatory excellence – recognising excellence in gaming policy and regulation
Regulatory innovation – recognising a new or innovative policy and regulatory approaches
Best regulatory campaign – recognising the most creative, compelling, and impactful responsible gambling/safer gambling communication campaign
Regulatory rising star – recognising an emerging public policy and regulatory leader
The panel of confirmed judges include:
Ben Haden – UK Gambling Commission
Thulisizwe Johnson – Botswana Gambling Authority
Caroline Kongwa – National Gambling Board South Africa
Jason Lane – Jersey Gambling Commission
Catherine Myers – Victorian Commission for Gambling and Liquor Regulation (Australia)
Paul Newson – Senet Advisory (Australia)
Trudy Smit Quosai – Greo (Canada)
Marc Ellinger – International Masters of Gaming Law (IMGL)
IAGR encourages all jurisdictions to get involved and use this opportunity to celebrate great work.
The full awards criteria and rules are available on the awards page.