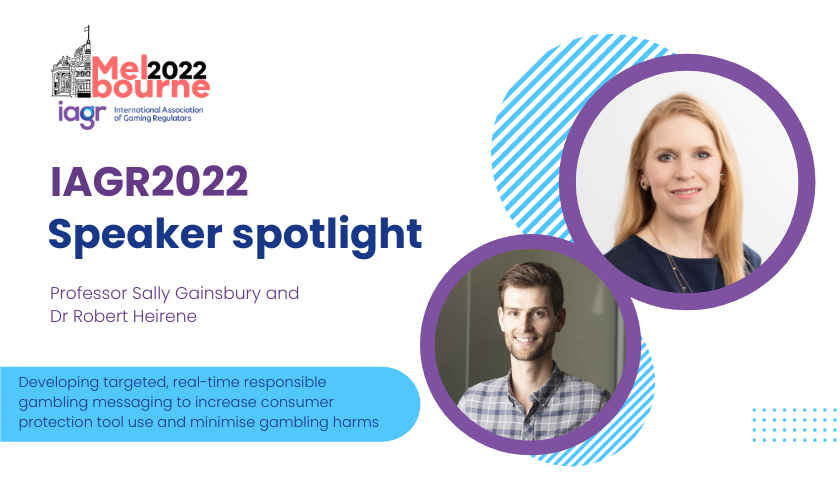 IAGR2022 Speaker spotlight – Professor Sally Gainsbury and Dr Robert Heirene
Developing targeted, real-time responsible gambling messaging to increase consumer protection tool use and minimise gambling harms
Supplied by IAGR2022 speakers: Prof Sally Gainsbury (sally.gainsbury@sydney.edu.au) & Dr Robert Heirene (robert.heirene@cdu.edu.au)
In this talk we will discuss innovative new research to improve the effectiveness of strategies to minimise gambling harms. This research was conducted in partnership with multiple Australian online wagering operators and involved analysing large volumes of gambling data, breaking the mould of traditional academic research which has typically used simulated gambling and relied on small non-representative samples. Our presentation will provide an overview of results across multiple studies, with a focus on how we can nudge people towards safer gambling behaviours, including the use of consumer protection tools.
Should we bother with consumer protection tools?
Online gambling sites (and increasingly in-venue gambling services) offer several consumer protection or responsible gambling tools in an attempt to assist customers to manage their gambling at sustainable and 'safe' levels. These include tools like deposit limits, timeouts or "take-a-breaks", and self-exclusion, as well as an increasing number of new and innovative features like session timers, restrictions on depositing methods, and the ability to "block" gambling on certain days or times.
But are consumer protection tools (CPTs) useful in minimising gambling related harms? Research by our team and internationally suggests CPTs, particularly deposit limits, are useful in reducing risky play. Players who set deposit limits appear to spend less and lose less than those without limits. Timeouts are also useful in reducing risky play.
However, unsurprisingly, the efficacy of these tools is predicated on customers accessing and using them. Our team recently worked with six leading Australian wagering sites to extract account data for nearly 40,000 customers and found rates of CPT use were low. Only 15.8% used deposit limits, ~1% used timeout, and less than 1% used self-exclusion tools. Earlier research by our team shows many customers are not even aware these tools exist.
How can we increase the use of consumer protection tools?
Standard, static responsible gambling messages have generally not been useful at encouraging behavioural change and CPT use. Our research indicates that different gambling cohorts (e.g., older customers) have specific preferences for the types of messages they would like to receive. Further, the way in which messages are delivered to customers also appears to impact their efficacy. Pop-up messages that present on-screen and interrupt gambling appear to be more effective at changing people's attitudes and behaviours around their gambling. However, progress in this area has been limited by the lack of live trials of messages in real gambling settings to determine how customers respond to different message types in real time.  Our recent research overcame this limitation by trialling three different message types aiming to encourage deposit limit use that was sent to customers of four wagering sites in Australia. We found the type of message (e.g., social-norm orientated, personal-benefit focused) did not affect the number of people who set a limit in response to the messages, but the way in which messages were sent did appear to have a small impact, with messages sent via on-screen pop-up performing better than messages sent by email.
Another strategy to encourage CPT use involves basic structural changes that sites can make to "nudge" people in the direction of using CPTs. In our study of CPT use among ~40,000 online gambling customers in Australia, we found that when one site introduced a mandatory opt-out setting for deposit limits (i.e., making customers either set a limit or opt-out of setting one), it dramatically increased the number of customers setting limits. In the 10 months preceding this change, an average of five people per month were setting limits with the site, skyrocketing to 187 people in the first month after the change (an increase of over 3000%). Similar, simple changes to site registration processes and default settings could encourage the use of CPTs, and we aim to collaborate further with consumer-focused gambling operators to test this possibility.
What's next?
We are now in the stages of planning and conducting further studies that build upon the research discussed above to identify optimal message types and behavioural change strategies to encourage CPT use. We continue to work in partnership with wagering operators in Australia and internationally to achieve these aims. We are planning to look at how further variations in message wording and timing can increase CPT use, particularly around the time of registration. We will also study how to improve algorithms to identify risky gambling and customer support, including proactive emails and calls with customers to encourage use of CPTs, and how to use UX design principles to optimise responsible gambling microsites and the presentation of CPTs and information. Our presentation will provide previously un-reported insights into the initial outcomes of this new phase of research and details of research underway.