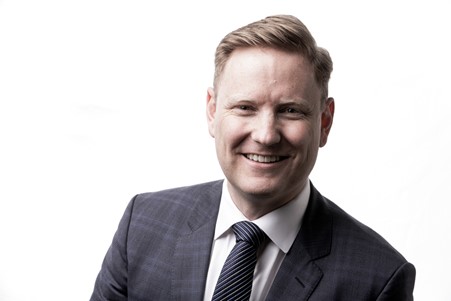 IAGR President's Comments – Paul Newson – October 2020
No-one wants 2020 to loiter, I think we can all agree its caused enough calamity and despair, but I have mixed feelings as we hurtle into the final quarter of the year and approach what is likely to be a muted festive season. Mixed because my term as IAGR President is ending and I will be stepping down as an IAGR Trustee. I intend to stay connected, but I will miss the opportunity to work with trustees and help shape IAGR's posture, strategic direction and build its contribution to gambling regulation globally.
We did not Disrupt the regulator this year. Instead, in true regulator style, we parleyed disruption down the road 12 months! But out of this difficult decision, and after 12 months saturated in every virtual conference conceivable, many of us, and possibly everyone, are champing at the bit to meet in-person and share stories of what we have endured. And what we have achieved. So, while it was difficult to have to close the shutters on IAGR2020, perhaps making us all wait to savour Boston and the wider New England region and spend some time connecting will make up for much lost conversation since we last met.
I was fortunate to speak with Cathy Judd-Stein, Massachusetts Gaming Chair last week, and preparations are again gaining momentum towards welcoming the international regulatory community and industry stakeholders to IAGR2021 Boston and staging our much anticipated conference focused on sparking innovation in regulatory practice in September 2021.
IAGR's annual conference has abundant clout and IAGR2021 Boston has assembled an impactful line up of leading thinkers, regulatory practitioners and industry stakeholders influencing gambling regulation and industry innovation. Residual uncertainty about COVID related public health restrictions notwithstanding, I think IAGR2021 has the potential to make a spectacular return and anticipate it will be standing room only.
As IAGR continues to grow its reach and impact, I think it is vital it is buttressed by a range of initiatives, and perhaps none more important than longer terms for the Vice President and President. After serving in both roles, it is my view that strategic clarity, organisational continuity, and meaningful achievement is curtailed by the awfully short 12-month terms. I think it would be prudent to extend the terms to 24 months at least, and if this is too onerous on potential candidates or the incumbent, a governance refresh might be appropriate to explore other avenues to secure leadership continuity and strategic momentum.
Additionally, I am persuaded that IAGR would greatly benefit from establishing an Executive Director role to work with the Board of Trustees to execute its strategic direction, build and leverage partnerships and bolster its contribution to gambling regulation globally. Establishing a key leadership role could help consolidate IAGR's position and materially enhance its capacity to advance its mission.
I spoke recently with Focus Gaming News and talked about the opportunity for IAGR to take a lead role in advocating for greater regulatory harmony and mutual recognition across international jurisdictions. From gaming related licenses, gaming machine approvals to probity inquiries investigating a person's suitability, there is ample opportunity for better leveraging work and recognising outcomes in comparable jurisdictions. IAGR is tremendously well placed to champion a move towards mutual recognition and regulatory harmony that could be underpinned with international standards and safe harbour thresholds which would realise tremendous efficiency for everyone, while ensuring consistent rigorous inquiries are conducted without duplicating routine inquires in each jurisdiction. Of course, where appropriate a jurisdiction may decide to make additional inquires based on the available evidence and its risk appetite, but this would be by exception. Perhaps it's time for IAGR to step into the breach and accelerate efficient and effective gambling regulation with advocacy and policy effort towards increasing regulatory harmony amongst other matters.
The concept and associated planning for IAGR's inaugural International Regulatory Awards at its 2021 Boston conference is advancing and I'm pleased to say that Catherine Myers, Chief Executive of the Victorian Commission for Gambling & Liquor Regulation is Chair of the Regulatory Awards Sub-Committee. IAGR launching its International Regulatory Awards is a significant opportunity to recognise and celebrate regulatory leadership and excellence in the regulatory craft. Planning is well progressed and details such as award categories, eligibility and how to nominate will be shared over coming weeks as we work towards an official launch of this exciting initiative.
We will be surveying members in coming weeks to ask for your views about IAGR's website and features that you would want to see as we think about a refresh. I know I am interested in some form of alert or bulletin to assist member requests and inquiries concerning other jurisdictions. This is increasingly relevant as we share policy and regulatory issues, and industry footprint is increasingly global. So please watch out for the survey and share your thoughts on what IAGR's future website ought to look like and the features it should prioritise.
The International Center for Gaming Regulation (ICGR) at UNLV has migrated its gambling regulation programs online and has released its latest catalogue which contains some great seminars and is an excellent facility to build regulatory capability remotely particularly important when travel restrictions restrict in-person attendance. The ICGR will also be travelling to Sydney, Australia in 2021 to deliver Regulating The Game – a prestigious 5-day gambling regulation education program, designed to build individual and organisational capability, deepen sector knowledge and advance thinking and discussion about contemporary best practice regulation while cultivating an innovative and compliance orientated culture.
After much reflection I decided to transition from government and take up a role as Head of Advisory for Senet – Australia's leading specialist gambling law, regulatory and compliance advisory. I am relishing the opportunity to apply regulatory expertise to support government and regulators address public policy challenges and implement regulatory best practice as well as support operators meet or exceed regulatory obligations and benefit from compliance-oriented culture that enables innovation and vibrant, thriving industry.
Please send any submissions on any policy matters to the IAGR Secretariat at iagr@iagr.org.
I look forward to hearing from you and meeting again in Boston if not earlier!